Jewellery Management System
j
Jewellery Management System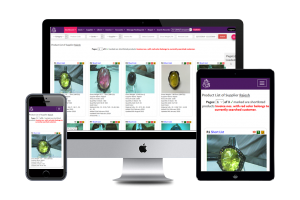 BSIJewels
BSIJewels or Binarysoft India's Jewellery Management Information System is a complete suite to manage jewellery manufacturing, barcoding, trading and purchase, gold receipts, karigar management, showroom invoicing, back office management, accounts management with tons of MIS reports.
The objective of this software is to enable a Jeweller manage all their business workflow through an automated software system which brings more efficiency to their business and interactive/transparency to the user. It also provides automated tools that can be used for bulk invoicing and purchasing. Jewellery Management Information System can be plugged with various API's for real-time bullion rates such as MCX India are visible.
BSIJewels begins with the formation of a company and the accounting years thereon. It has centralised master and user management based on branches and business locations. This software comprises various modules to help business achieve it's desired goals.
Primary Modules:
Account Heads
Opening Stock
Purity Management
VAT Managements
Location Management
User Management
Company Management
Stock Groups
Stock Item Master
Gold Arrival
Diamond Arrival
Silver Arrival
Amount Arrival
Weight Stock
Sale Voucher
Purchase Voucher – Customer
Purchase Voucher – Vendor
Advance Receipt
Gold Receipt
Gift Voucher
Karigar Issue
Karigar Receipt
Journal Voucher
Cash Voucher
Bank Voucher
Order Form
Primary Reports:
Employee Sales Report
Voucher Reports
Daily Sale Report (Accounts)
Daily Sale Report (Showroom)
Daily Credit Report
Daily Weight Stock Report
VAT Register (Purchase) DVAT 30
VAT Register (Sales) DVAT 31
Trial Balance
Summary Ledgers
Purchase Book
Journal Book
Sub Account Summary
Day Book
Karigar Register
Karigar Summary
Balance Weight Summary
Customer Register
Stock Register
Daily SR
Stock Report
Morning Opening Balance (MOB) Reports